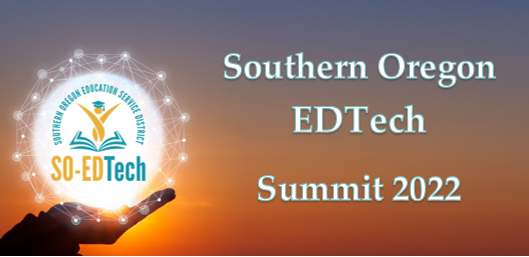 Southern Oregon is bringing back our premier "Teacher to Teacher" instructional technology integration training event: the annual Southern Oregon EDTech Summit, now in its 10th year, on August 11th 2022. This event will feature teachers sharing their knowledge and skills for integrating technical tools for teaching and learning. Come join us for a variety of engaging topics presented by your fellow educators, just in time to support your fall classes.
Fellow educators from across Southern Oregon and around the state will provide practical ways to engage students in multiple methods for all age groups. They will also support administrators in visioning approaches to hybrid and distance learning.
We'll be holding this year's Summit at White Mountain Middle School and working with multiple partners to offer access to sites across Oregon. These sites will provide virtual access to speakers and enable people to attend as a group and thus engage in interactive discussions and exercises the presenters put forth.
Please join us and if your district or organization would like to host a site please contact Aaron Cooke or Nancy Hayes.
Thank you to our generous sponsors